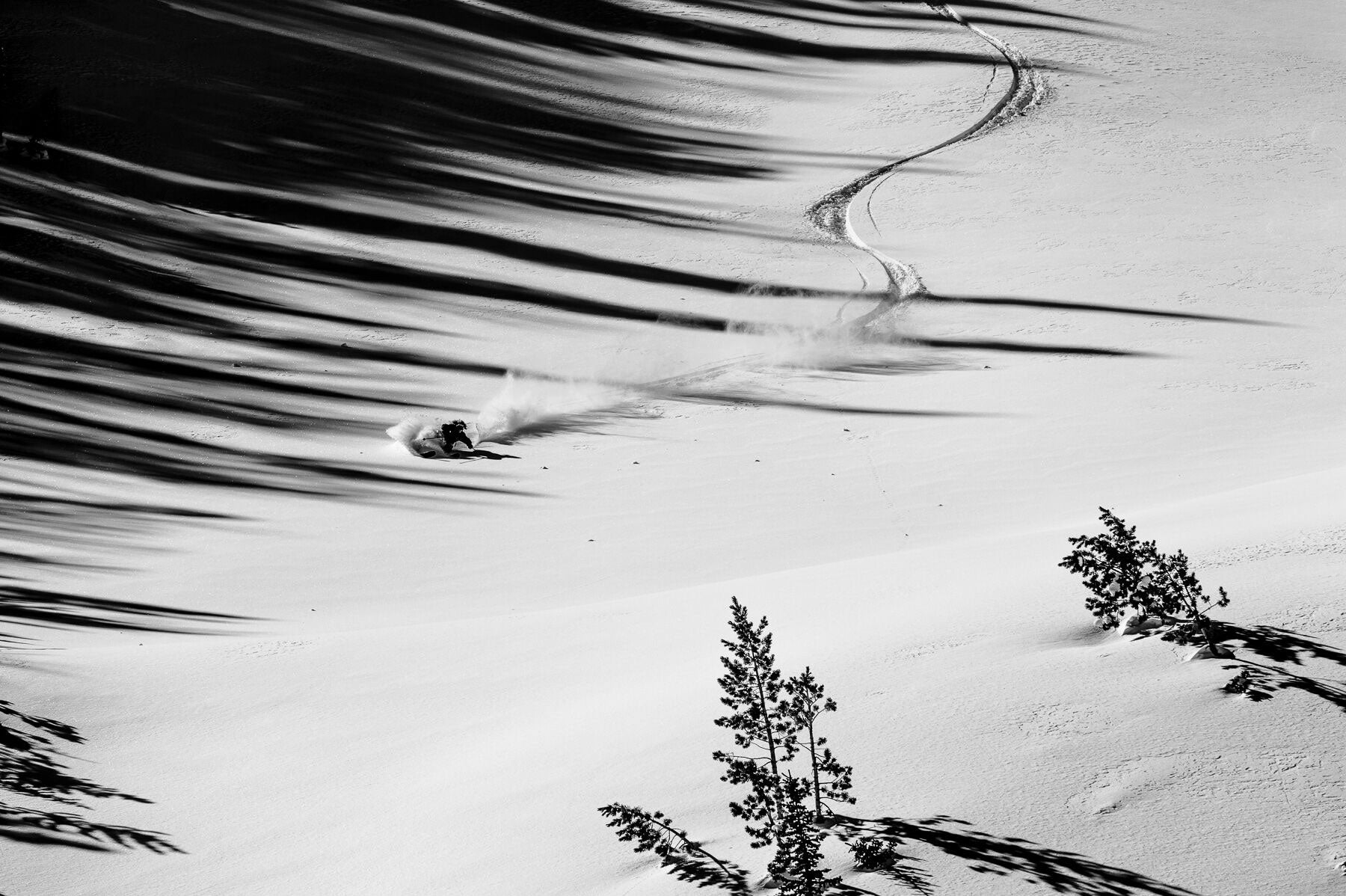 Technically advanced skis
Crosson strives to create the most technically advanced skis ever made. Four years of R&D with meticulous attention to detail has produced great skis. We push the boundaries of what is possible and will continue to challenge what it means to be the best.
With strong roots in aerospace manufacturing, our owner only wanted to dive into the ski business if he could bring something truly different to the ski industry. With four years of R&D, Crosson has pushed the boundaries to deliver a better ski experience for you.
When it comes to ski manufacturing and processes, just about all manufacturers in the world utilize a wet resin system and fiberglass. Crosson is unique as we we utilize a dry resin system.
Our process
When manufacturing with a dry resin system, you are able to create a more consistent ski (weight and flex) by having identical amounts of resin within the laminates. Dry resin also enables us to not have to use any toxic wet resins throughout our entire manufacturing process.
Crosson also uses an automated twin bay Langzauner ski press. The Langzauner press gives us the ability to make tiny micro adjustments on the fly and easily achieve any desired camber profile. With digital chalk adjustments, pressure, temperature controls, etc., we ensure every ski is pressed under the exact same specifications to guarantee consistency. Our Langzauner press has 22 chalks across the length of the press and each can be adjusted by .05mm increments for the highest precision in the ski industry. 
At Crosson, we only utilize the finest materials in all aspects of our skis. From our nano high-speed graphite infused race bases (the thickest and fastest race base in the world), custom paulownia/beech/carbon cores, natural vulcanized rubber, aerospace grade prepreg carbon fiber, carbon fiber wrapped cores, dense steel edges, and nylon top sheets, no aspect of the ski is compromised. Our skis are guaranteed to last and come equipped with a full two-year warranty!
Unlike most ski manufacturers, Crosson skis do not contain any fiberglass plys. With that being said, Crosson has taken our carbon fiber construction to the next level. Historically, when ski manufacturers build skis with carbon fiber, they utilize a biaxial or triaxial weave carbon fiber and only in small amounts.
Carbon fiber: Unidirectional vs. Woven
Lightweight unidirectional carbon fiber allows us to dictate the longitudinal and torsional flex characteristics to our liking, whereas woven carbon fiber will only add stiffness to your ski and its properties cannot be tuned. Crosson skis average 7.5sq meters of unidirectional carbon fiber per ski. We build multiple laminates for each ski in varying fiber directions to achieve our desired longitudinal and torsional flex characteristics. After our laminates have been built, they are all precision cut on our CNC before being laid up in our CNC matched aluminum tooling.
All skis are hand-made in N. America
In our state of the art manufacturing and tuning facility. Crosson prides itself on being an American made ski company. By manufacturing all of our skis in-house in the US, we are able to ensure the utmost accuracy throughout all stages of our manufacturing processes which allows us to guarantee a robust end product.
Crosson utilizes dissimilar materials to craft an uncompromised state of the art ski. By combining dissimilar materials, we are able to greater maximize the efficiency of each materials characteristics. We fully wrap all of our cores in carbon fiber before laying up our skis to create a torsion box around the core. This gives the ski greater preload which provides exceptional energy transfer as well as increased response and pop. We also add a full length and full width piece of natural vulcanized rubber above and below to core to create an incomparably damp ski.
All of our skis come stock from the factory with a world cup race ready tune. Each ski comes with a custom base structure, 3D base structure, and are waxed with four coats of base conditioner and wax on our infrared waxer for maximum absorption and wax retention. No other ski manufacturer in the world provides complimentary 3D structures on their bases as a standard feature on all of their skis. With our Montana Saphir and Crysal Race machine, we ensure that your skis are flat, fast, and come with a ceramic disk edge polish to allow you to hold any edge.
2-year warranty
All skis come with a 2-year warranty
In the very rare event that a portion of the ski becomes compromised with a manufacturer defect or happens to delaminate or break, depending on the severity of the damage, Crosson will either repair or replace the ski at zero cost to our customers.
Money back guarantee
If for any reason you are not 100% satisfied with your Crosson skis after your first 30 days of use, you can send them back for a refund. To do so please email contact@crossonski.com
Please note that shipping costs are non-refundable and the customer is also responsiblefor return shipping of the product.
Also, you cannot return a product, and then re-order the same product in the future.
Moneyback guarantee requests can be rejected if there is catastrophic damage caused by skier errorduring the first 30 days of use.